Blood Heir
BOOK 1 OF RYDER SERIES
KATE DANIELS WORLD
---
AVAILABLE ON JANUARY 12, 2021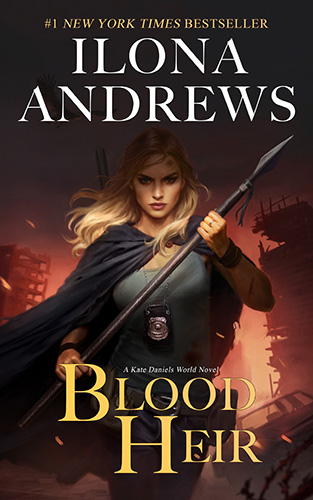 From award-winning author, Ilona Andrews, an all-new novel set in the New York Times #1 bestselling Kate Daniels World and featuring Julie Lennart-Olsen, Kate and Curran's ward.

Atlanta was always a dangerous city. Now, as waves of magic and technology compete for supremacy, it's a place caught in a slow apocalypse, where monsters spawn among the crumbling skyscrapers and supernatural factions struggle for power and survival.

Eight years ago, Julie Lennart left Atlanta to find out who she was. Now she's back with a new face, a new magic, and a new name—Aurelia Ryder—drawn by the urgent need to protect the family she left behind. An ancient power is stalking her adopted mother, Kate Daniels, an enemy unlike any other, and a string of horrifying murders is its opening gambit.

If Aurelia's true identity is discovered, those closest to her will die. So her plan is simple: get in, solve the murders, prevent the prophecy from being fulfilled, and get out without being recognized. She expected danger, but she never anticipated that the only man she'd ever loved could threaten everything.

One small misstep could lead to disaster. But for Aurelia, facing disaster is easy; it's relationships that are hard.
BUY FROM ONE OF THESE FINE RETAILERS
---
AUDIO: Audible | Amazon | Apple Books
Excerpt
This excerpt has not been proofread and may contain mistakes.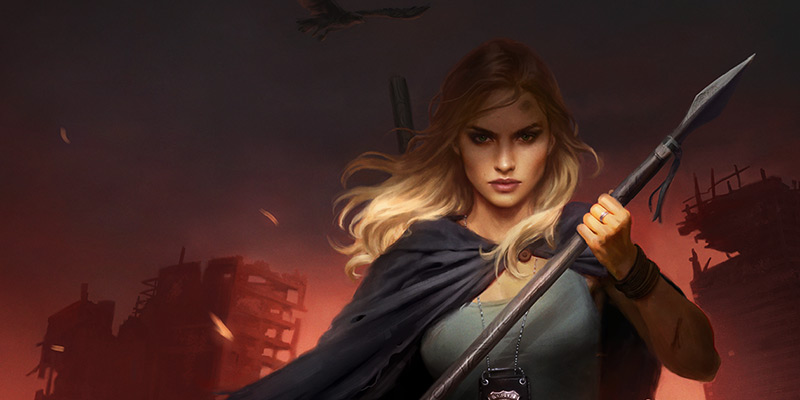 Chapter 1
The moon was full and silver. It peeked at me through tattered clouds as I rode my horse down the old I-20, staying in the center of the highway. Magic had been chewing on the edges of paved roads for decades, and the asphalt near the shoulder often crumbled under the weight of a horse.
Nothing to see here, moon. Just a lone woman in a tattered cloak riding her horse into her home city after being gone for far too long.
Around me dense pines towered on both sides of the once busy highway. Glowing eyes watched Tulip and me from the darkness between the roots and branches, yellow for racoon, white for deer, green for foxes, electric red arranged into a triangle for hell alone knew what. The forest critters gave me the stink eye but kept to themselves.
The trees stopped abruptly, replaced by fields wrapped in razor wire. A sign loomed ahead.
WELCOME TO ATLANTA
We're Glad Georgia Is on Your Mind
A bit optimistic of them.
Below someone had scribbled in white ink.
"Praise the Lord and get the fireballs ready."
That was more like it.
A dark shape swooped above my head. The moonlight slipped over it, dancing on its feathers, and then it soared into the endless indigo of the sky. Like most eagles, Turkan didn't like to fly at night, but something must've unsettled my raptor. He'd taken off the moment we left the leyline and refused to land on his perch on my shoulder.
Another sign jutted into the night.
ALL VISITING SHAPESHIFTERS
Present to the Pack in 24 hours
Take I-85, head northwest, follow your nose.
Twenty-four hours? When I left eight years ago, foreign shapeshifters had three days to introduce themselves to the Pack. Times had changed.
A high eerie howl floated up to the clouds on the night breeze. Not a shapeshifter. Just some garden-variety monstrosity venting to the moon. Too far to worry about. Tulip flicked her ears and kept going.
Shapeshifters were a paranoid, suspicious breed. Lyc-V, the symbiotic virus that gave them the ability to change into an animal, came bearing many gifts. Some, like enhanced strength, speed, and senses, were beneficial. Others, not so much.
Those who changed shape lived a life of discipline and self-control. The other way lay loupism, a catastrophic plunge into hormone-addled hell that turned shapeshifters into sadistic spree killers. Loupism had no cure, except for a blade to the neck or a bullet to the brain.
To keep themselves sane, shapeshifters required the kind of structure that regular society could no longer deliver. They set themselves apart in packs, and the rest of the population, acutely aware that each shapeshifter was a spree killer in waiting, was happy to let them govern themselves.
Of all the shapeshifter packs active in the continental US, Atlanta's Free People of the Code were the largest and by far the strongest. Most packs rarely reached over a hundred members. Atlanta's Pack counted nearly three thousand shapeshifters and seven different clans, defined by their animal forms and unified under the rule of a Beast Lord. It was so large, that it was known simply as the Pack. Only the Ice Fury Pack in Alaska was larger.
A long time ago, I was one of the rare humans who were considered members of the Pack. I lived in the Keep, the massive shapeshifter fortress northwest of the city. All my friends had grown fur and claws. Back then, the Pack had a different Beast Lord and he'd treated me like his younger sister.
The fields ended and ruins began. I adjusted the weight of the spear in the sheath on my back, nudged Tulip, and she picked up speed. I had a morning appointment to keep on short notice.
The highway narrowed. We took an exit to the left onto Basilisk Road and followed it as it looped northwest, climbing through the exposed corpses of once tall apartment high rises.
Magic hated technology. It came in waves, flooding the world, snuffing out electric lights and gasoline engines, chewing on skyscrapers, and spawning monsters. Then, as unpredictably as it appeared, the wave would wane, and technology once again came out on top. Spells fizzled and guns once again spat bullets.
The taller the building, the harder magic gnawed on it. Most skyscrapers and office towers had fallen long ago. A lot of the overpasses had crumbled to dust or collapsed. The old skyline was but a distant memory.
In its wake, new buildings sprung up, built by craftsmen mostly by hand to minimize magic erosion. Here and there, the new structures hugged the road, solid homes and offices with thick walls, strong doors, and narrow windows guarded by steel bars. The soft yellow glow of electric lights fought with gloom. The magic was down now. If it had been up, some of the grates on the windows would shine with silver and the blue radiance of fey lanterns would replace the electric bulbs.
The city looked the same as when I left it. It felt the same too, dangerous, indifferent, watchful, yet somehow still achingly familiar. Home, despite all the years I'd been gone. I'd been almost eighteen when I left. I was twenty-six now. It felt like a lifetime ago.
I never meant to be gone this long, and this wasn't how I wanted to come back to Atlanta. My biological family was dead, but my found family was alive and well and they'd wanted me back for a long time. In my mind, I would've called ahead, and they would meet me at the leyline, mob me, hug me, and we would all go home. That was the original plan.
But if I went home now, I'd be signing their death warrants. I had to stay off the radar and I couldn't afford to be recognized.
Not that I would be recognized. When most people came home after a long absence, their family said things like "You lost weight" and "Is that a new hair cut?" If I went home, my family would ask, "Who the hell are you?" Nothing about me was the same. Not my body, not my face, not my voice, or my scent.
A hint of movement on the left jerked me right out of my memories and into the present.
I was several blocks deep into a deserted street. On the left, a ruined heap of a building crouched, still steeped in night shadows. On the right, a wall rose, new construction, solid, thick, and topped with razor wire. Ahead, the street ended, as if sheared with a giant's knife. A chasm gaped, dropping a full fifty feet down below, about a third of a mile across.
The chasm was new, but not surprising. Magic waves didn't just birth monsters; they produced new rivers, raised hills, and split the ground. Atlanta had dealt with the chasm, as was evidenced by a single-lane wooden bridge spanning it.
The bridge wasn't the issue. The three shapeshifters that moved out of the shadows to block it were.
There was absolutely no reason for a Pack patrol to be here at this hour. Their territory was all the way on the other side of the city. The timing wasn't right either, just before dawn, when they should've been returning to the Keep, to perform their morning meditation and curl up for a nap like well-behaved monsters. Yet here they were, dressed in matching Pack sweats and blocking my way.
Atlanta was a bitch of a city.
All three were male and young, and showed no intention of moving out of my way. The itty-bitty welcoming committee.
"Hi there!" I called. "I need to get on this bridge."
The middle of the shapeshifters, who looked about twenty, tan, with longish dark hair, smiled at me. "Password?"
Aren't you cute? "Why do I need a password? Is this bridge in the Pack's territory?"
"That's not important," the leader said. "What's important is that there are three of us and one of you."
Well, look who learned to count.
"If you want to cross the bridge, you have to give us the password," the shapeshifter said. "If you don't know it, you'll have to pay the fine."
The smaller shapeshifter on his right grinned and let out an eerie cackle. Boudas. Of course.
Boudas, the werehyenas, belonged to one of the smaller of the Pack's seven clans. There weren't many of them, but they were dangerous and utterly nuts. Wolves, jackals, rats, all of them could be reasoned with. Boudas did things like climb into a captive polar bear's enclosure and tickle it with their claws to see what would happen.
Fine. I'd go around.
I tensed my right leg a fraction. Tulip turned, more anticipating the command rather than obeying it, the sound of her hooves clopping on the pavement too loud in the night. Two more shapeshifters stepped out of the shadows, blocking my exit.
Right. The story of my life.
"Did I say three?" the bouda called out. "I meant five."
A normal Pack patrol had two people, three if it was on the border with the People, because necromancers made a dangerous enemy. Five shapeshifters meant a strike team. They had run some sort of mission in the city, and it was my bad luck to run into them as they were coming back. They saw a lone woman in faded jeans, old boots, and a tattered cloak riding a horse late at night, low threat and an easy target. If they'd been wolves, jackals, or Clan Heavy, I'd be halfway across the bridge by now. But they were boudas and they liked to play.
I guided Tulip into continuing the turn until I faced the bridge again. Five boudas would be a tough fight, and the moment they realized that I wasn't playing, it would escalate into real violence. I really didn't want to kill anyone. I didn't have time to play games either.
"Still waiting for that password," the leader of the boudas said.
"May 15th," I said.
"What's that?" the shapeshifter on the left asked.
"Andrea Medrano's birthday," I said. "Good enough?"
The shapeshifters paused. It was a funny thing to watch: one moment, they were oozing arrogance, the next they simultaneously lost their steam as if someone popped them on the nose with a rolled-up newspaper. To them Andrea Medrano was Boss, Judge, and Executioner. They called her Alpha. I called her Andrea. Or Aunt Andy when I was sucking up to get her help for some nefarious deed.
The trio by the bridge eyed me, their expressions cautious. If they kept blocking me, and I turned out to be someone Andrea knew, there would be hell to pay. The only way to check that would be to call to Bouda Clan House and talk to her, which meant they'd have to answer uncomfortable questions about why they stopped me in the first place. The Pack took pains to maintain a cordial relationship with humans in general, and the city of Atlanta in particular. The punishment would be swift.
A tall shadow stepped out of the ruins, as if congealing from the darkness, and glided forward with easy grace. Broad shoulders, long legs, a large guy, same grey Pack sweats. He took another step and I saw his face. It was a face that wouldn't just stop traffic, it would cause a pileup.
His eyes caught the moonlight. A blood-red sheen rolled over his brown irises.
"Now, that's an interesting development," Ascanio Ferara said. "Please, tell me more."
Damn it all to hell.
Ascanio glanced at the boudas by the bridge. All three promptly looked down. So, stopping me was an unsanctioned bit of fun.
When I left, Andrea and her husband Raphael, the alphas of Clan Bouda, were grooming Ascanio for the beta spot, which would've made him second in the chain of the clan's command. He'd wanted that spot more than anything. Apparently, he'd gotten what he wished for and all the headaches that went with it.
Ascanio turned back to me and looked me over, slowly.
I made a conscious effort to not hold my breath. Ascanio knew me. We'd met when I was fourteen and he was fifteen, and we'd spent a lot of time together.
We haven't met.
His nostrils fluttered slightly. He was downwind from me, and the night breeze had brought him my scent.
I'm a stranger. You've never seen me before.
Ascanio inhaled deeper. His eyes narrowed.
My heartbeat sounded too loud in my ears, but it was slow and steady. He wouldn't know me. Sometimes when I looked in the mirror now, I didn't know me.
Time stretched, slow and viscous like molasses. He stared at me, and I had no choice but to stare back.
Ascanio had been beautiful as a teenager, almost androgynous. The beauty was still there, in the bottomless eyes under the sweep of dark eyebrows and in the perfect lines, but his face had gained strength. His features had broadened slightly. Time had contoured his jaw. No traces of softness remained. It was a man's face now, with harsh edges and defined angles, and eyes that radiated authority and power. If I didn't know him, he would've knocked my socks off.
"You dropped my Alpha's name," Ascanio said. "Care to explain?"
"No."
Red flashed in his irises. "You know confidential information about my Alpha. I need to know how, because I've been with her for over a decade and I've never met you."
"And what will you do if I don't tell you?"
"I'll have to insist." His voice told me I wouldn't like it.
The first time we'd met, he'd decided it would be a brilliant idea to kiss me. I'd shoved a handful of wolfsbane in his face, dumped him on the floor, and tied his arms behind his back. And then I'd asked him if the spoiled bouda baby lost his bottle and his teddy.
"So, let me get this straight," I said. "Five of your shapeshifters detained me without cause outside of the Pack's boundaries, demanded that I pay a fee to cross a public bridge, and now you're threatening me with assault."
His eyebrows furrowed slightly. All of those would've been a violation of the Pack's policies eight years ago.
"I haven't threatened you yet."
"I feel threatened. I'm trembling with fear."
"I see a distinct lack of trembling," Ascanio said. "This is very easy. Tell me how you know Andrea Medrano's birthday, and you're free to go."
"You're missing the point. You have no right to detain me in the first place." To escalate or to back down? That was the question.
"You seem suspicious. I'm not sure you should be wandering around unsupervised."
Ascanio would require nothing short of complete submission to let me go. Once I took a step back, he would want my name, my reason for entering the city, and once he saw my face, my address. Backing down would cost more time and require too much lying.
"And you seem like an idiot, yet somehow nobody prevents you from wandering around free."
One of the boudas by the bridge giggled and clamped his hand over his mouth.
Ascanio raised his eyebrows. "An idiot?"
"One human woman in the middle of a tech wave against six shapeshifters. Only an idiot can't understand how that math will look to civilian law enforcement or your Alpha. Does she generally encourage you to hassle lone women late at night?"
He took a step forward. Menace rolled off him like air from hot asphalt.
"Since I'm an idiot, perhaps I'll pull you off your horse in my idiotic way, stuff you into one of our houses, somewhere with a deep basement, and wait until you decide to answer my questions. You can file a complaint if you ever get out."
"Is this you threatening me? I'm checking so we're both clear."
"When I threaten you, you won't have to ask."
"In that case, do it. Pull me off my horse."
He didn't move. I'd called his bluff. Ascanio had many faults, but he wouldn't hurt a random stranger, much less a human, without reason. If it got out that the Pack was kidnapping young human women off the street, the fallout would be catastrophic, and with five witnesses, it would get out. Shapeshifters gossiped worse than bored old ladies in church.
Frustration sparked in his eyes and died. I'd won.
Time to ease up. I didn't want to antagonize him too much. "Why don't we do this: you let me be on my way and I won't file a formal complaint. It's a win-win."
Ascanio held up his hand to stop me and turned away, looking at the wall across the street. A moment later the rest of the shapeshifters turned and looked there, too.
A boy leapt out of the darkness and landed on the corner of the wall, the only spot free of razor wire. He was solid and corded with muscle, only half a foot shorter than me. Dark brown hair cut short, tan face, and gray eyes that were so light, they were practically silver.
Conlan.
When I left, he wasn't even two years old. We'd seen each other hundreds of times over the years when visiting our grandfather in his otherworldly prison, but it'd been eight years since I'd seen him in person. If we were alone, I would've pulled him off that wall and hugged him so hard, he'd need all his shapeshifter strength to wiggle out of it.
Our stares connected.
He gave no indication that he recognized me. My brother, the master of subterfuge.
Ascanio heaved a mocking sigh. "The little prince graces us with his presence. You're a long way from your parents' territory, Your Highness."
His Highness sat cross-legged on the wall. "You're a long way from your Clan House, Beta Ferara."
Ascanio smiled slowly, baring his teeth. "Run along now."
"And if I don't?" Conlan squinted at Ascanio. "Will you try to put me in your special basement?"
One of the boudas chuckled and choked it off before Ascanio could glare at him.
"This doesn't concern you," Ascanio said, his voice harsh.
"I'll decide what concerns me." Conlan rested his elbow on his knee and plopped his chin on his fist. "Don't worry. I won't get in your way. Please go on with your attempted extortion, robbery, and kidnapping scheme. I just want to see how it all turns out."
"And then what?" One of the boudas behind me asked. "You gonna run home and tell your daddy?"
My brother turned his head and looked at him. Gold rolled over his eyes and flared into a bright glow. The bouda with the big mouth tried to hold his gaze. A tense second passed. The bouda looked down.
Ascanio couldn't let that pass. Conlan had just alpha stared one of his people into submission. I had to diffuse it before it broke into violence.
"So it's not just lone women you hassle in the middle of the night. You also bully children."
Ascanio glanced back at me.
That's right. I'm still here.
"I'm going to ride across this bridge," I told him. "You're welcome to try and stop me. I'm pretty sure the kid and I can take you."
"You should try to stop her," Conlan called out. Flesh flowed over his left hand, snapping into a nightmarish half-hand half-paw, disproportionately huge and armed with claws the size of human fingers. "It will be fun."
"We both remember what happens when you go looking for fun," Ascanio said. "Do I need to remind you?" He made a show of looking around. "I don't have loup manacles handy."
He didn't have what?
Conlan's face rippled. He was a hair away from going furry. "That was a long time ago. Why don't we go find some and see what happens?"
Nothing. That's what was going to happen.
I nudged Tulip. She lowered her head and stomped to the bridge. The boudas blocking it hesitated.
I fixed them with my stare and barked in the same voice I used when I wanted soldiers in the middle of a slaughter to obey me. "Move."
The two on the left scrambled aside. The bouda on the right stood alone, not sure what to do.
Out of the corner of my eye, I saw Ascanio wave him off. The bouda backed away.
Ascanio had crunched the numbers and didn't like the result. In a fight with shapeshifters, there were no guarantees. If Conlan got hurt, or worse, if he hurt someone, there would be a lot of questions. I could just imagine how that conversation would go. "How did Curran's son get hurt?" "Well, there was this woman…" "And what possessed you to detain a human woman in the middle of the night? Also, why is Bob missing an arm?" Ascanio was an ass, but he wasn't a fool.
Ascanio flicked his fingers toward the city. The boudas shot past me, leaping on to the bridge, and broke into a run.
I glanced to the wall. Conlan was gone. Good job.
Ascanio turned to me. "You and I will meet again, soon."
"No, we won't."
Blood red eyes fixed me. "Think about the things I asked you."
He sprinted past me onto the bridge, catching up to his crew with ridiculous ease. They dashed into the night with a speed that would make racehorses green and vanished from view.
For my first night back in Atlanta, it could've been worse. I still had all my limbs, and my hair wasn't on fire.
What was that about loup manacles? I'd seen Conlan every week or two for years, and my brother never mentioned anything involving Ascanio and loup manacles. In fact, he never mentioned Ascanio, period. I'd have to get to the bottom of this next time we talked…
A ghost of a presence tripped my alarms. The tiny hairs on the back of my neck rose. Something waited in the depth of the ruins on my left. Watching me. I couldn't see it or hear it, but I knew it was there, hidden in the darkness, the same way primitive people knew when a tiger lay in wait at the mouth of their cave.
I could get off the horse and say hello, but there was no telling what I would find, and every instinct warned me to back away. Tulip tensed under me. She didn't like whatever was hiding in the darkness either.
There was no point in looking for trouble. I'd lost enough time as it was. I shifted my weight in the saddle, and Tulip trotted onto the bridge.
Nobody followed us.
#
I sat on a huge chunk of concrete in the middle of the street. Around me the old bones of Midtown spread under the pale-grey, pre-dawn sky. Jagged corpses of skyscrapers jutted from the sea of rubble. Some had fallen whole; others broke off midway, and their husks stared at the world with black holes of empty windows. Strange lichens sheathed their walls, some coiling in ridges on the brick and stucco like ancient fossil shells, others drooping in long crimson strands that moved and shivered without any wind. Decorative hedges that once bordered sidewalks had grown foot-long thorns. Otherworldly vines, dotted with flowers, spilled from the gutted ruins.
The first magic wave had stabbed Atlanta in the heart, leaving a ragged gaping wound that cut through Midtown. The wound bled magic even during the strongest tech, and its current had warped this area beyond all recognition. The locals called it Unicorn Lane. Nothing was what it seemed here, and everything tried to kill you. Even the biggest magical heavyweights steered clear of it. To enter Unicorn Lane, you had to be desperate or crazy. Good thing I was both.
In front of me, a small space had been cleared free of rubble. A ten-foot-tall stele thrust from its center, a narrow stone slab with four equal sides. A pack of small russet-furred beasts somewhere on the crossroads of squirrels and mongoose dashed down a narrow path and around it. The thing that chased them had no name. About the size of a large rottweiler, it scrambled over the refuse on six legs. Its fur was a forest of hair-thin black needles. It looked like a sea urchin, except for its head with long jaws and dinosaur teeth. The beast dashed after the pseudo squirrels, slipped, and slammed into an abandoned car wrapped in orange moss.
The moss turned bright red from the impact. The beast staggered away, swayed, and collapsed, its side awash with scarlet. The needles drooped, liquifying. A thick puddle of brown blood spread from the creature. Dozens of critters no bigger than a rat streamed out of the ruins like a blue-grey tide to drink it.
Tulip neighed at me for the third time.
"Fine." I got off the rock and untacked her. "Don't go deep."
Tulip tossed her head and took off down the street, a splash of white.
"Is that wise?" a familiar female voice asked.
I turned. Sienna stood by the stele. She wore a long dark cloak, and her hood was down, revealing her face and strawberry blond hair shorn in a new short bob. Her skin was pale, her features delicate and gentle, and her eyes distant. Before the Shift, people used to draw fae like her. Nobody would ever draw a delicate fae again.
"Tulip will be fine. What happened to the hair?"
She smiled. "Needed power for a spell."
Sienna was an oracle who saw into the future. I had focused on her prophecies so much over the last four years, sometimes I forgot that she was a witch.
I walked over and we hugged. She used to be sickly, almost skeletal, and sometimes she still forgot to eat, because she lived with one foot in another time. She felt solid now. Good.
"Why here?" I asked, nodding at the stele.
"I have my reasons."
Sienna looked at the monument and a single name chiseled on it. SAIMAN.
"I always wondered why nothing else is written here," she said.
"That's the way he wanted it."
I remembered the day we buried him. It rained so hard, all of us looked like we were crying. I wasn't sure if anyone actually had. He'd stabbed too many of his pallbearers in the back.
A grandson of a frost giant, Saiman had been an expert on magic. He'd also been a polymorph. He could turn himself into anyone he wanted, any age, any gender, any shape within human limits, and he'd used that gift to live a thoroughly selfish life, using people, manipulating them, trampling over them in a hedonistic pursuit of wealth and pleasure. Then the city had to come together to face a terrible threat, and Saiman had had one brief shining chance to cast aside his cowardice and step up to the plate. He took it, and it killed him.
I hadn't mourned him, I'd never trusted him, but I was sorry he died. A lot of people, better people, had also died in that battle.
Sienna looked at the stele, or rather through it, at something only she could see. I waited.
She'd called me yesterday. This is your last chance to stop it. Meet me by Saiman's grave before sunrise. Then she'd hung up.
Rushing her and asking questions would accomplish nothing. She weighed and measured each word a hundred times before she said it. And even so, most of what she said made no sense until it was too late. I just had to be patient and hope I figured it out in time.
Last chance. The very last one.
Four years ago, she'd called me in the middle of the night. Sienna had foreseen disasters before, wars, plagues, dragons. Nothing rattled her, but that night her voice shook. She told me that an elder god had been reborn as an avatar in Arizona. Moloch, the Child Eater, the deity of the Canaaties condemned in the Old Testament, who took his sustenance from infants burned alive in the fires of his forges and metal bulls. For nearly three decades he had been building up his domain, preparing to expand, and that night Sienna had seen his first target.
Moloch would kill Kate. The woman who raised me as her daughter.
Kate was so much more than my mother. She was the nexus, a point of connection for many people who would otherwise slit each other's throats. The Pack, who suspected all outsiders; the Masters of the Dead, who piloted vampires with their minds as if they were drones; the Witch Covens that guarded their precious knowledge with beasts and curses; the Neo-Pagans with a persecution chip on their shoulder; the Order of Merciful Aid, who maintained that their way was the only right way; all of them owed a favor to Kate. She was respected by all, loved by some, feared by others, but none of them would treat her lightly. Kate was the only person capable of forging the factions of Atlanta into a unified force.
Eight years ago, she had done just that, and Atlanta stood as one against a danger that should have ended it. The city survived against all odds. Now Kate had moved on, to the to coast near Wilmington, coming to Atlanta only for the summer, and without her the city had fractured again. But these fractures could still be repaired.
If Moloch killed Kate, Atlanta would collapse upon itself and fall to his power. Everyone I cared about on the East Coast would die trying to avenge her. The conflicts between the factions of the city would flare into a war. On the West Coast, Erra, Kate's aunt and the woman I called my grandmother, was trying to resurrect the ancient kingdom she left behind thousands of years ago. My grandmother once lost herself to vengeance and became an abomination to protect her people. Kate's death would catapult her down the path of retribution once again and this time she would not survive.
Sienna told me that I was the wild card. It was up to me to stop the prophecy from coming true.
That night four years ago I'd gotten off the phone with Sienna, and in the morning Erra and I were off to Moloch's fortress. He thought he was secure in his citadel. I'd gotten myself captured, killed his guards, cut my way to his workshop, and severed his spine. He tore out my eye. My grandfather had told me that Moloch's power was in his eyes, so I carved one of his out of his skull as he lay by my feet and put it into my head. Then I cut his body to pieces and threw him into his own forge. And then I set his hell fortress on fire.
Within two years Moloch had regenerated, as my grandfather had warned me he would. I had bought us some time, but the future remained unchanged. Kate still died. From the moment I felt Moloch's eye root into my head, everything I had done was to prevent the prophecy from happening. I clashed with Moloch again and again, but no matter how hard I struggled, I couldn't alter Sienna's visions. If Kate met Moloch, she died. If I went home, she died. If I warned her, she died.
"Moloch spoke to me again," Sienna said.
Hearing the name said out loud was like being shocked with a live wire. I pushed the rage down. "What did he say?"
She glanced at me. "He taunted me. He can't see what I see. He worries."
Anything that worried Moloch was great for us.
"A holy man was murdered. His name was Nathan Haywood. Moloch sent his priests into the city. He wants something connected to this murder."
"Something or someone?"
Sienna shook her head. I wouldn't get an answer. "Find it before he does. If he obtains it, everything is lost. The future becomes a certainty."
Kate would not die. Not while I was still breathing.
"Julie," Sienna called.
I startled. I had left that name behind me years ago. Julie Olsen was gone, melted down in the crucible of magic. Now I went by Aurelia Ryder.
"Do not go home. If Kate sees you, she will recognize you. She will die. Curran will die. Conlan will die. Everyone you love will be gone."
A cold spike of fear hammered through my spine. "Conlan saw me."
"Conlan doesn't matter. Only Kate does." She reached out and gripped my hands. "You must stop him this time. No matter the cost. There are no more chances. This is it."
"I promise," I told her.
"Carry some lemon juice with you. Just in case."
She pulled her cloak around her and walked away.
Lemon juice. Right.
I stood by the grave and watched the sun rise, splashing pink and red across the sky. The night was still in full swing in Arizona. Three hours from now Moloch would awaken and look at the sky just as I did. He was drawn to the sun. It was a ball of fire, and fire gave Moloch his power.
You sent your priests into Atlanta, huh? Don't you worry, Child Eater. I will take good care of them and when I'm done, you'll wish you had never been reborn.
I let out a shrill whistle. Turkan took off from the ruin to the right, and landed on my arm, all twelve pounds of him. Yellow feet gripped the padded bracer on my forearm with black talons. The golden eagle shifted his weight, wings fanning my head, and stared at me with his amber eyes. Tulip came running around the heap of rubble. It was time for us to go to our new house and get the keys. I had a murder to solve.
---
---